A Short History of flying discs,
Frisbee®, Ultimate + Disc Golf
from the 1920's up until Today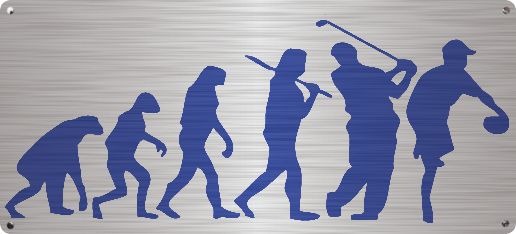 1920's
The first known instance of anyone playing golf with a flying disc occurred in Bladworth, Saskatchewan, Canada in 1926. Ronald Gibson and a group of his Bladworth Elementary School buddies played a game throwing tin plates at targets such as trees and fence posts. They called the game Tin Lid Golf and played on a fairly regular basis on a disc golf course they laid out on their school grounds. But, after they grew older and went their separate ways, the game came to an end.

1936

At Princeton University, Albert Einstein stops to admire a disc throw-and-catch game conducted with a round metal can cover. He is quoted as saying "Very beautiful!".

1940's

The origins of the Frisbee goes back to a bakery named the Frisbie Pie Company of New Haven, Connecticut, established by William Russell Frisbie. Before the bakery closed operations in 1958, the tossing of the company's pie tins by college students at Yale and Dartmouth led to Frisbie becoming a well known term for flying disc play in the Northeast. In 1949, California inventor Walter F. (Fred) Morrison realizes that plastics technology could be used to make a disc-shaped flying toy. That year, the first flying disc produced with his partner Warren Franscioni, the Pipco (short for Partners In Plastic Company) Flyin-Saucer, hit the market.

Early 1950's

On the east coast, Bill Robs markets the Space Saucer in college campus bookstores. In 1954, the first "Frisbie Match" was held at Dartmouth College. Morrison then improves his invention with a second disc, the Pluto Platter, with the now famous phrase "PLAY CATCH - INVENT GAMES" stamped on the inside. Disc golf was one of those invented games! By 1954, a tournament for another new disc game called Guts is held at Dartmouth University.

Late 1950's

Wham-O became interested in this flying disc in 1955 and about a year later began marketing the Pluto Platter after acquiring the rights from Morrison. In July 1957, the name was changed to "Wham-O Frisbee" after the company heard about the pie tin game on the east coast called Frisbie-ing. In 1958, the first International Frisbee Tournament was held in Eagle Harbor, Michigan.

Early 1960's

Copar Company of Chicago markets a disc called the Sky Saucer that included a rulebook for the game of "Sky Golf" (similar to Frisbee Horseshoes).

1964

Wham-O introduces the "Official Pro Model" to be used for all disc sports, including disc golf.

1965

Modern Frisbee patent applied for based on design by "Steady" Ed Headrick of Wham-O, who would later become known as the "Father of Disc Golf".

1967

Ed Headrick starts International Frisbee Association (IFA) and establishes standards for various disc sports such as Distance, Freestyle and Guts.

1968

The U.S. Navy spends nearly $400,000 on unsuccessful tests of many flying discs to keep flares aloft for longer periods of time. The game of Ultimate Frisbee, a field disc sport similar to football, was first played using codified rules in 1968 at Columbia High School in Maplewood, New Jersey. This disc sport is now played at over 600 colleges in 32 nations.

1969

The first official disc golf tournament was held at Brookside Park in Pasadena, California. The goals were natural objects marked with a ribbon. Later, George Sappenfield organized several Frisbee golf events in Southern California. Disc enthusiasts introduce the concept of disc golf to other parts of the country. "Object Courses" using anything from lamp poles to fire hydrants as targets begin to crop up in the Midwest and East Coast.

1970

The first "Frisbee Club" is formed in Rochester, New York and disc golf is played on a regular basis.

1972

Rochester, New York becomes the first municipality in the world to hold an Annual City Disc Golf Championship.

1973

Flying Disc World becomes the first magazine for disc sports. Dan Roddick wins a brand new 1974 Datsun B-210 at the disc golf portion of the American Flying Disc Open in Rochester, New York. Having a new car as Grand Prize was a great idea to get exposure for disc golf as a sport.

1975

Oak Grove Disc Golf Course located within Hahamonga Watershed Park in Pasadena, California becomes the world's first permanent disc golf course. It was an instant success. Later that year, Wham-O introduces the Bicentennial Frisbee disc, to celebrate the United States Bicentennial in 1976.

1976

Ed Headrick patents the modern chain style target he called the "Disc Pole Hole" and organizes the Professional Disc Golf Association (PDGA).

1977

The first PDGA tournaments are held in Mobile, AL and Northern New Jersey. The modern era of disc golf competition begins.

1979

The Ultimate Players Association (UPA) is formed and begins to refer to the sport as 1 word (simply Ultimate, as opposed to Ultimate Frisbee).

1981

The 175g Discraft Ultra-Star disc is introduced and approved by UPA, with color of white recognized as the Official Ultimate disc for tournament play.

1982

The PDGA becomes a player-run organization to schedule tournaments and formalize the rules of play. Harold Duvall wins the first PDGA World Disc Golf Championship.

1983

Dave Dunipace, past World Distance and Disc Golf Champion, invents and patents the triangle-rimmed disc. This innovation brings the advantage of distance with accuracy to the games of amateurs and professionals alike. As a result, courses begin to get longer and more challenging; the excitement grows.

1984

Disc Golf World News begins publication. This is the first magazine for Disc Golf. The same year, the World Flying Disc Federation (WFDF) is established to promote disc golf and Ultimate Frisbee events worldwide.

1985

The World Flying Disc Federation organizes the first "World Championships" held outside of the United States, in Helsingborg, Sweden. Players from 21 countries attend. Around the world, players continue to lobby parks departments and college campuses for more disc golf courses. By the end of the decade, permanent disc golf courses are installed in the United States, Canada, Europe, Australia, and Japan.

1989

Ultimate is shown as an exhibition sport during the World Games in Karlsruhe, West Germany. This year also marks the first World Club Ultimate Championship, in Cologne, West Germany.

1991

The first annual World's Biggest Disc Golf Weekend is held at Zilker Park in Austin, Texas. Created by John Houck, a 2-time World Champion in Freestyle Frisbee and top USA disc golf course designer, the WBDGW has become a continuosly growing international event. Always held on First Weekend in May each year (May 4-5 2013), over 18,000 players in 200 cities from 10 countries are expected to be participating this year!

1993

Lavonne Wolfe establishes the PDGA Hall of Fame. The PDGA begins to chronicle the history of disc golf.

1995

Innova introduces the DISCatcher Pro Disc Golf Target and promotes building new courses. DisCatchers quickly become the most popular basket among disc golfers. In the next five years, the number of courses triples to 1,200+.

1998

The inaugural United States Disc Golf Championship is held at Winthrop University Gold Course in Rock Hill, South Carolina. Ken Climo is the first to win and be crowned the U.S. Champion.

2000

The number of permanent disc golf courses in the USA surpasses 1,000.

2001

Disc golf becomes a featured event and Ultimate becomes a medal sport at the World Games in Akita, Japan.

2002

The 2002 World Ultimate Club Championships (WUCC) in Hawaii is the largest Ultimate meet to date, with over 2,300 players and 120 teams from 24 countries participating. Bob Ostrander and his brother Bill develop Orby, the first light-up flying disc using high-intensity LED lights. Improvements in technology and durability lead to a second generation of light-up products such as the Odyssey Night Ultimate Disc from Black Jax Sports.

2003

The World's First 360 Degree Disc Golf Layout for Park Circle Disc Golf Course in North Charleston, SC was designed by members of Charleston Disc Golf Club. The unique Park Circle neighborhood, designed by William Bell Marquis in 1913, was just the second "English Garden City" style planned community in the country. He never knew it almost 100 years ago, but the 8 green area islands created to surround 2 baseball fields, a kids playground and community center were indeed perfect for a disc golf course.

2005

With 250+ disc golf courses built this year, the number of permanent disc golf courses in the United States reaches 2,000!

2006

Ken Climo of Clearwater, Florida becomes a 12-time World Champion, establishing a new record that will probably never be broken. The book Flat Flip Flies Straight - True origins of the Frisbee is published by Fred Morrison and Phil Kennedy.

2007

Wham-O celebrates the 50th Anniversary of the Frisbee by reissuing the original Pluto Platter in gold and other flying discs. The 50th Anniversary 3 disc boxed set, including a replica of original 1957 patent for the Original Frisbee, is a popular Holiday gift.

2008

Ben Calhoun and Greg Hosfeld share a round on what makes the 1,000th different disc golf course that both of them have played. Earlier in the year, Wham-O releases a 60th Anniversary 3 Frisbee boxed set with a limited edition glow in the dark version of the original Pluto Platter. One of the other 2 discs includes the phrase "60 Years of Fun", which relates to Wham-O and the earliest prototypes of Frisbees.

2009

Tigers Woods PGA Tour 10 video game for the Nintendo Wii adds Disc Golf. As a result, many new people of all ages find out about disc golf for the first time. The number of permanent disc golf courses hits 3,000 worldwide. Growth rate in sport of Disc Golf continues at an amazing pace of 15% per year.

2012

In USA Ultimate Club Championship Series, the end zone length was shortened from 25 yards to 20 yards to allow for consistency with WFDF rules used in international competition and to increase the number of field sites that can be used for Ultimate. Acording to the Sports and Fitness Industry Association, data suggests the number people who played Ultimate in the USA in 2012 exceeded 5 Million!

Today

Ultimate is now played by an estimated 100,000 players in 40+ nations, with the Ultimate Players Association in the USA having over 27,000 members. The history of Disc Golf continues to grow at a very fast pace with more courses, more tournaments, more players and more fun! Never tried it? View This!

Future

Both disc golf and Ultimate are currently experiencing rapid growth. For the last three years, the number of USA disc golf courses has gone up by 15%. This rapid growth should continue because many parts of the country are unaware of disc golf and the many healthy benefits it offers to people across ALL age groups. In an age of rampant obesity, the sport of disc golf course offers free fun and healthy exercise to every family.

Want a NEW local disc golf course? Organize local players and contact your town, city, county and park officials. Tell them you need a course NOW! If they are unfamiliar with the sport, offer to show up with some discs at their next meeting. Invite interested officials to go play a round. Mention you vote and Stay on them! In many areas, funds from local accommodation taxes at hotels and motels (used to promote tourism) CAN be used to pay for new courses to attract traveling, out-of-town visitors. Compared to other recreational facilities, a disc golf course is CHEAP!
---

Frisbee and Disc Golf Basket both debut on TV!
Frisbees on NBC Tonight Show! Ed Headrick is guest to Johnny Carson!
Headrick + Morrison on TV Game Show (Disc Golf Basket seen on TV!)
Watch above disc golf video to see them missing LOTS of easy Putts!


Ultimate Ace Mix - See 21 different Disc Golf Aces in about 3 Minutes!



|

|

|

A look back at OLD Frisbee® advertisements...



Let your Fingers do the Clicking in THE Carolina Yellow Pages! (Official Site!)


|

|

|

|

|

|


Park Circle Disc Golf Course | Park Circle Maps | Disc Golf History | Links | Site Map
Photos of Course: Hole 1 | Hole 2 | Hole 3 | Hole 4 | Hole 5 | Hole 6 | Hole 7 | Hole 8 | Hole 9
This site is brought to you by Charleston Disc Golf Club. Hosting by Carolina Web Hosting.
Park Circle Disc Golf is Copyright © 2017 by Carolina Web Marketing. All rights reserved.
No content may be reproduced, altered or redistributed without our express written consent.